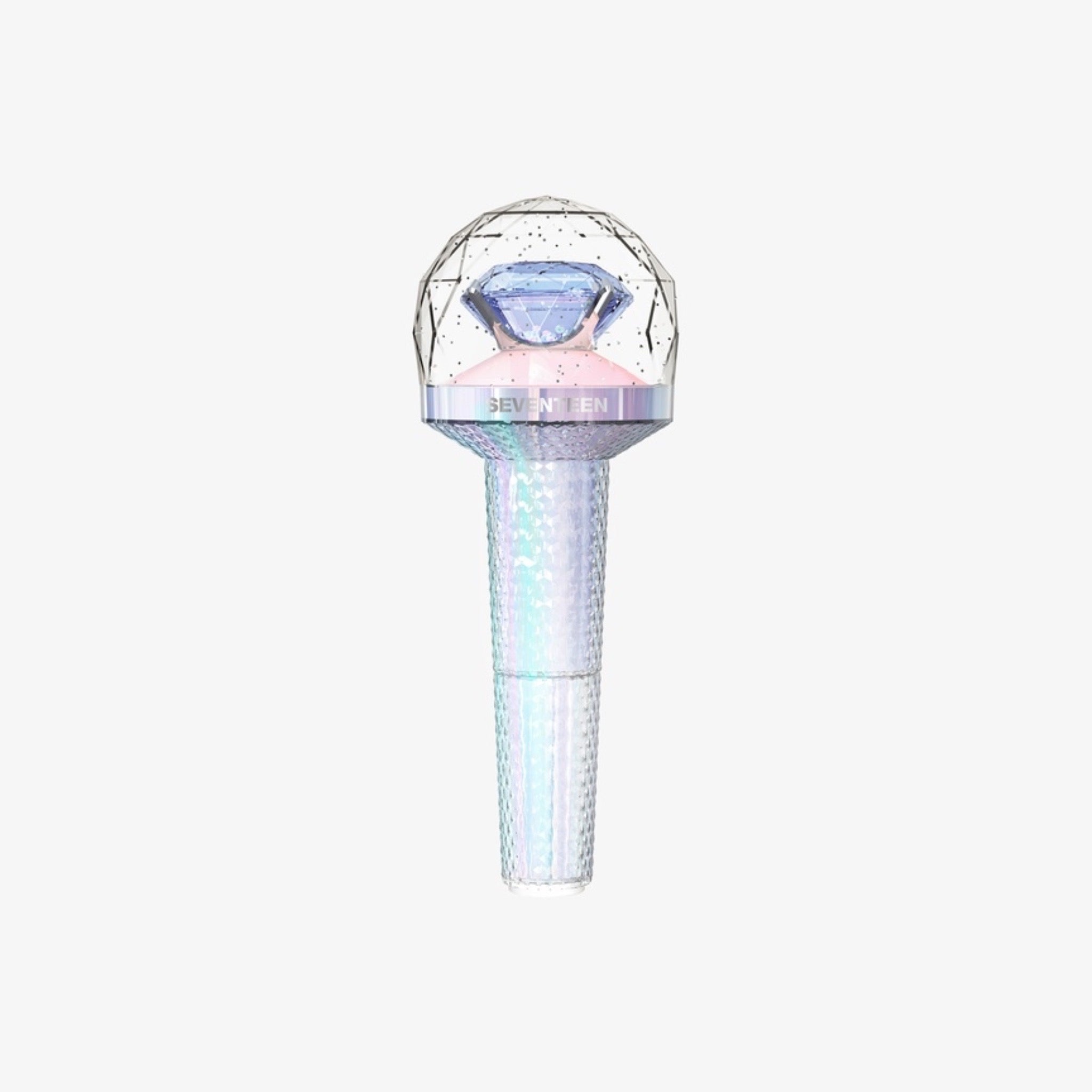 SEVENTEEN OFFICIAL LIGHT STICK VER.2
Description

SEVENTEEN OFFICIAL LIGHT STICK VER.2 (UNOPENED PRODUCT)

 

* BORACLOVER ONLY SELLS 100% OFFICIAL MERCHANDISE

 

- Seventeen photo cards

- Photocard sleeves


 

- 1 Outbox

- 1 Seventeen official light stick ver.2

- 1 Strap

- 1 Sticker 

- 1 Guarantee paper

 

* BATTERY IS NOT INCLUDED
Shipping

All items will be shipped within 3~5 business days once your order has been processed.

Delivery Time (Approx): worldwide shipping: 3~5 business days (DHL Express), 7~14 business days (K-Packet)

Custom & Duties: please note that import duties, taxes and charges are not included in the item price the cost is the buyer responsibility
Refunds & Returns

Refunds of products are possible within 2 weeks from the date of ordering the products. All products are non-exchangeable.
---
IF YOU BUY NOW, FREEBIES GIFT GIVING
SEVENTEEN OFFICIAL LIGHT STICK VER.2
SOOO PRETTYYY!!!
Omg thank you so much boraclover for this Lightstick! It's my first ever Lightstick! My wish came true, I never thought I would be holding this Lightstick! Took about a month to come, I was going to cancel my order after about a couple of weeks of my shipping process not being updated. But, I ended up just contacting the shop and telling them about it and they were very helpful. I still can't believe I was able to get the Lightstick! ( Thank you for all the freebies!)
I'm very happy and grateful.
At first, I was a little afraid of fake, but now I really received it. I thought I wouldn't receive a seventeen light stick ver.2 in my life. Thanks to boraclover for making my dream come true.
LOVE IT LOVE IT LOVE IT
After being this late, still can't believe that I finally got the official lightstick!! Did double and triple checks with posts online, and it's official. It also came pretty damn fast in terms of the shipping as it came in less than a month. THE ACTUAL LIGHTSTICK LOOKS SO GOOD. LOVE YOU BORACLOVER!!!
A long wait and it's Official Light stick thank you for Freebies❤️
Hello I'm from Australia🇦🇺and I purchase since early March and at first it scares me since I have the tracking is not accurate at the start it's a fake one but I read your reviews from Bora clover that they are all legit and apparently it's out of stock so have to wait for 2 months, however at 13 of April there's a notification from AusPost that my item from South Korea and I have to called AusPost "What I item is it?" And they said it's a Seventeen Light Stick and I'm so happy that it will come.
And now on 28 April I'm so happy I received through my Parcel Locker and when I open Caratbong Version 2 it's so gorgeous in person and the quality is so amazing and I'm so happy with it and I'm glad that is Official light stick since since it's well package that is covered with bubble wrap and inside of the box there is plastic to protect the Caratbong Version 2. Also I'm so happy that I keep playing Seventeen songs and use Caratbong Version 2 for the whole day. And thank you so much for the freebies they are so cute💖.
TOTALLY LEGIT, has the sticker, works with the app and everything!!
I've been wanting to get one for a long time and had to jump on it before the new one comes out incase these go extinct. The worldwide free shipping was super nice and it got here so quickly.
The upper left corner of the outbox has a very minor dent, and the insert holding the lightstick in place inside the box was a bit torn up. Those aren't really concerns of mine but I know some people care a lot about those things, plus everything was safe inside so I don't really care all that much.
It works with the app and looks absolutely gorgeous!
Super pleased with my buying experience as well. Will definitely be purchasing from here again!!